So, it's about time Justin Bieber gets kicked off one of the top spots on my blog's main page. And what better way to do this than recommending you some awesome places to visit?
First of all, my blogging friend Leah is having an
awesome giveaway
on her adoption blog. For a $20 donation you can have the chance to win this Nikon D3100 set! There is great urgency about it, because it looks like Leah will have to travel to Serbia to complete the adoption of her son L. L, like Leah's two youngest children, Angela and Axel, has Down's Syndrome (don't correct me, it's British English!), and, like Axel was, is in a Serbian orphanage.
Because if the short time available before she needs to travel, the giveaway is only open till November 15. If you do not have the means to donate $20, please feel free to support them with less, or by spreading the word about this giveaway.
Now you all remember
Katya
, right? She is now home, and is growing and learning. She is attending school with non-special needs peers, and is undergoing extensive medical testing. Unfortunately it was found that Katya has several issues that cannot be fixed, while any potential action plan about the issues that can be fixed haven't been drawn up. Please keep her family in your prayers.
Katya's big sister also started
her own blog
, displaying some of her crafting ans sewing projects, with some items for sale and others that can be custom ordered. She currently has this charming poppy style flower available. I know someone who will be reading this and who loves stuff like that! Am I correct?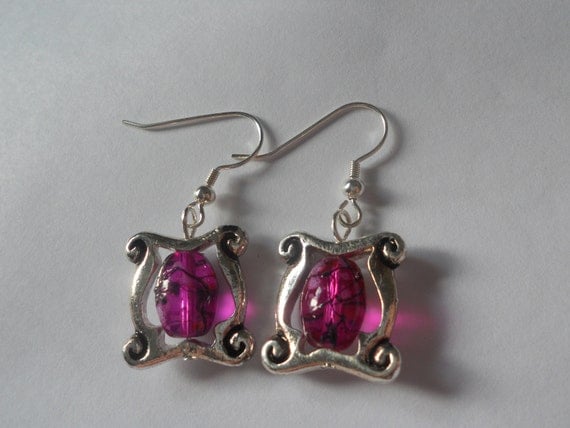 Now, Fräulein Pfau has some great stuff in her
Etsy shop
. Handmade jewelery, all original, all one of a kind. With Christmas/Chanukah approaching, why not consider getting a pair of lovely earrings like the pair on the left? The best thing? While she already uses nickel free hooks, she can exchange them to sterling silver, which can be also ordered from the page. It's very nice if you have sensitive skin!